DasAir
Air Quality and Gas Detector
DasAir - Air Quality Detector
The indoor air quality transmitter provides multiple sensing options using high-quality sensors for temperature, humidity, CO, CO2, PM2.5, PM10, TVOC, HCHO, Oxygen, and NH3 measurements.
All values are kept within the safe range, All normal will show good
Does not pose an immediate danger but requires caution.
Reach any of the states below will show attention.
Staying in this environment can be dangerous, Reach any of the states below will send immediate alert and show hazardous
Excessively Low/High Oxygen Level
DasAir Dashboard
Real-time air quality monitoring system
Trend graph for oxygen(O2)
Trend graph for PM2.5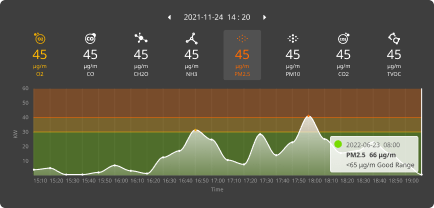 DasAir Dashboard